Positive Training for Positive Results
A Step Above Pet Nutrition and Training is a professional dog training establishment in Canton. We offer a large range of training services all customized for your family conducted in and around your home including puppy training, basic obedience, and socialization. More in-depth training needs such as continued education, behavioral modification, reactivity issues and more are also offered.
At A Step Above, we believe that training is a lifetime approach, much like mastering an instrument or any other in-depth skill. We like to take a comprehensive approach to training so that when we have finished our job, we have built a connection with you and your dog that will last a lifetime. In addition to these training services, Brian is able to assist families with different types of service dog needs. Starting with selecting the dog if needed, working with them to meet your needs as well as teaching the dog obedience and manners outside the home so that the dog can become properly certified.
Click the button below to read more about our Trainer, Brian

Reactive Training
We train to correct reactive and other dangerous behaviors such as territory, food, resource, and fear reactivity. We can also work on begging, counter surfing, Velcro dog syndrome, and various other undesirable behaviors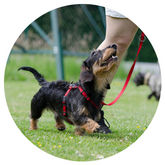 Beginner Training
Our obedience system is based on fun engagements that build focus. A great introductory class that teaches simple cues like sit, come and stay.

Behavior Modification
We use positive reinforcement to correct behavioral issues such as barking, digging, jumping up, biting, chewing and other dog and puppy problems.

House Breaking & Potty Training
Our professional trainers can train dogs to eliminate in litter trays, potty pads, or outdoors.

Puppy Training
Help your puppy to develop critical social and obedience skills, plus you can get all your important puppy questions answered!
Come visit our pet supply store in Canton, GA specializing in quality food, treats, and supplies for cats and dogs.