Positive Training for Positive Results
A Step Above Pet Nutrition and Training is a professional dog training establishment in Canton. We offer a large range of training services all customized for your family conducted in and around your home including puppy training, basic obedience, and socialization. More in-depth training needs such as continued education, behavioral modification, reactivity issues and more are also offered.
At A Step Above, we believe that training is a lifetime approach, much like mastering an instrument or any other in-depth skill. We like to take a comprehensive approach to training so that when we have finished our job, we have built a connection with you and your dog that will last a lifetime. In addition to these training services, Brian is able to assist families with different types of service dog needs. Starting with selecting the dog if needed, working with them to meet your needs as well as teaching the dog obedience and manners outside the home so that the dog can become properly certified.
Click the button below to read more about our Trainer, Brian

Reactive Training
We train to correct reactive and other dangerous behaviors such as territory, food, resource, and fear reactivity. We can also work on begging, counter surfing, Velcro dog syndrome, and various other undesirable behaviors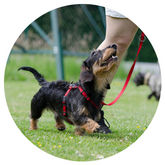 Beginner Training
Beginner training for pets is crucial. Dogs aim to please, so with these beginner methods and strategies, they will certainly supply your dog's opportunities to make you happy. Our programs start with the typical sit, stay and come. But as your canine advances, we offer more challenging requests that are supplied in our other courses! These are made to keep your pet dog involved as well as on their toes.


Behavior Modification
Here at A Step Above Pet Nutrition and Training, we specialize in pet behavior modification. Dog behavior modification is where we transform existing pet habits. This includes but is not limited to training in or customizing leash decorum, eating, pet resource safeguarding, barking, separation anxiousness, leash lunging, chain hostility, dog-on-dog aggression, as well as pet dog to human aggression.


House Breaking & Potty Training
House training your puppy has to do with consistency, perseverance, and favorable reinforcement. The goal is to impart great routines and also build a caring bond with your animal.
Specialists advise that you start house training your puppy when they are in between 12 weeks and 16 weeks old. At that point, they have enough control of their bladder and also bowel movements to discover to hold it. With A Step Above Pet Nutrition and Training's expertise, we give you the tools as well as methods to finest home train your brand-new furever friend.

Puppy Training
Enlisting in pup classes before three months of age can be an excellent means of improving training, enhancing the human-animal bond, and also mingling young puppies in an environment where risk of ailment can be minimized. Generally, puppies can begin puppy socialization courses as very early as 7-8 weeks old. Pup socialization classes provide a secure as well as organized ways of socializing pups and also quicker improve their responsiveness to requests. Early and also sufficient puppy socializing and also programs of favorable pet dog training can go a long way to stop habits issues and also enhancing bonding between people and dogs. While the very first three months is one of the most vital young puppy socialization period in a puppy's life, proprietors of pups that have passed this landmark are strongly urged to remain to mingle their puppies to as many people, pets, as well as locations as practical.

Come visit our pet supply store in Canton, GA specializing in quality food, treats, and supplies for cats and dogs.